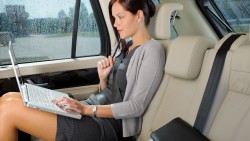 If you don't own a car, you'll definitely need help getting around town, whether it's to run errands or to make it to appointments. But even for vehicle owners, there are often times when a local car service can come in handy. Taxi Albany NY is pleased to provide car service across the region. We are available for transportation of up to seven passengers throughout the local region.
Need car service to Albany for a business meeting or car service in Rensselaer for a doctor's appointment? Our drivers have you covered. Our team is knowledgeable, our vehicles are well-maintained, and our customer service is legendary. At Taxi Albany NY, we're committed to our passengers' satisfaction with great rides and fair, flat-rate prices. Schedule the car or van services you need by calling today! 
Comprehensive Car Service in Albany and Beyond
Where can Taxi Albany NY take you in the local region? Perhaps the better question is where can we not take you? Our car and van service can provide transportation to just about anywhere you might need to go. We offer rides to airports and train stations, for special occasions and corporate functions, and practically anywhere around town you would want to go. Our car taxi service is committed to one thing: serving you. That means great service and fair prices no matter where your transportation needs might take you.
Our car service provides pickups and drop-offs at:
Restaurants
Bars and taverns
Grocery stores
Shopping centers
Doctors' offices
Hospitals
Sporting arenas
Concert venues
Businesses
Hotels
Airports
Train stations
And more!
While we're based in Albany, we offer car service in Troy, Saratoga, and just about anywhere else in the region. Our drivers can even provide JFK car service take you all the way to NYC or airport car service to Logan, Bradley, and beyond. Whether you're with us for a trip around the corner or a trip all the way to the city, you can expect a smooth, comfortable, and safe ride.
Licensed & Insured Car Service
Taxi Albany NY is proud to be fully licensed and insured for your security. Customer service is our top priority, and we know that providing you with peace of mind is part of taking outstanding care of you. We have more than 20 years of experience providing car and van service in the region, meaning our drivers know the local roadways inside and out and will be able to select the best route to your destination with ease. In short, for van and car taxi service, we are your best bet in Albany and beyond!
For car service in Latham, Delmar, or anywhere in the region, turn to the company that's trusted to provide a quality experience: Taxi Albany NY. We offer cheap car service without ever cutting corners when it comes to our service. We charge flat rates for car and van services, and we are available for immediate pickups and prescheduled rides. Call today to book car service for your next trip!